Ruby Serben was raised in and influenced by the Alberta landscape, surrounded by textures and forms, rocks and clay. Her focus did not center around art until 2000, where she fell in love with clay, and Shino glazes, inspired by her natural environment. She eagerly studied nationally and internationally with seasoned potters, in search of balance between the controlled Western approach and looser Japanese one. Her work can be found in Alberta local galleries. Also, she has been published, received awards, attends numerous juried shows throughout Canada, and can be found in loving homes locally, and around the world.
Ruby is a member of many professional organizations including: Alberta Craft Council, Alberta Potters Association, Friends of MISSA (Metchosin International Summer School of the Arts, B.C.), Edmonton Art Council, Harcourt House, Arts On The Avenue, Visual Arts Association of Alberta, Potter's Council (The American Ceramic Society, U.S.), Edmonton Potters Guild (2002 – 2004), St. Albert Potters Guild (2004 – 2006).
In her spare time Ruby brings a wise and mature voice to her craft in the community including the following support:
2009 – Present – Old Strathcona Farmer's Market – Vendor Committee
2004 – 2006 – Empty Bowls Fundraiser/Organizer – St. Albert
2004 – 2006 – St. Albert Guild – Workshop Co-ordinator, Sale Event Co-ordinator, Board Member
2002 – 2004 – Edmonton Potter's Guild – Workshop Co-ordinator, Board Member
Workshop Presentations
2006 Pottery Instructor, City of St. Albert
For more information or to contact this artist for a commission, please contact [email protected].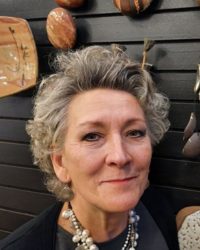 Exhibitions and Juried Shows
2018 – Circle Craft – Juried
2015-Present – Signature Shows – Juried
2014 – Our Best To You Christmas Show, Saskatoon, Saskatchewan – Juried
2014 – BUTTERDOME Spring Show, Edmonton, Alberta – Juried
2014 – Milner Library, Edmonton Public Library, Edmonton, Alberta- Juried
2014 – Gallery 501 Members Show, Sherwood Park, Alberta
2014 – Bread Basket, Members Exhibition, Visual Arts Alberta, Edmonton, Alberta
2014 – Garden Party, Art Gallery of St. Albert, St. Albert, Alberta – Juried
2013 – BUTTERDOME Winter Show, Edmonton, Alberta – Juried
2013 – Unknown Artist, Lacombe Arts Endowment Fund, Lacombe, Alberta
2013 – POTWORKS Exhibition, Alberta Craft Council, Edmonton, Alberta
On Tour to Red Deer College and Medalta
2013 – Gallery 501 Members Show, Sherwood Park, Alberta
2013 – Medalta International Cup Show, Medicine Hat, Alberta
2013 – "Kinetic 25": Members Show, Harcourt House, Edmonton, Alberta
2013 – Art Market in the House, Harcourt House, Edmonton, Alberta
2013 – "Square One: Fundraiser and Sale", Art Gallery of St. Albert, St. Albert, Alberta
2013 – "Off Center", Group Exhibit, Alberta Potter's Association, Calgary, Alberta
2013 – "Golden Edge", Group Exhibit, Alberta Craft Council, Edmonton, Alberta On Tour to Red Deer College
2013 – Bloomin' Garden Show, Alberta Avenue, Edmonton, Alberta
2013 – Vasefinder International, Fernley, Nevada, USA – 3 rd Place
2013 – "Shino: Glaze of a Thousand Faces" Solo Show, Stony Plain Art Gallery
2012 – Calyx Distinctive Arts Show and Sale, Edmonton, Alberta- Juried
2012 – Art From The Unknown, Edmonton, Alberta – Juried
2012 – Art In Bloom, Edmonton, Alberta- Juried
2011 – Deep Freeze Festival, Edmonton, Alberta – Juried
2011 – Art From The Unknown, Edmonton, Alberta – Juried
2010 – Funky Petals Flower Shop, Edmonton, Alberta
2009 – Glenrose Hospital, Edmonton, Alberta
2006 – Present – Old Strathcona Farmer's Market, Edmonton, Alberta – Juried
2006 – St. Albert Art Gallery SAPVAC Exhibition, St. Albert, Alberta
2005 – St. Albert Art Gallery SAPVAC Exhibition, St. Albert, Alberta
Publications and Media
2013 – Lark 500, Teapots – August 2013
2013 – Lorraine on Location, Global T.V., Edmonton, Alberta
2013 – Edmonton Journal, February 12
2013 – Where Magazine, Edmonton Edition, Spring 2013
2012 – City TV Appearance
2012 – Potters Council Calendar, Sculptural Collection – March