Gloria Gelo is a contemporary abstract artist working in mixed media. Gloria studied fine art in college, but choices in life took her in different directions. After many years of not painting, she ultimately came full circle to where her heart had always been. Her love of design, colour, mark making, and asemic elements bring a unique composition to her work.
ARTIST STATEMENT
"I've had an incredible life, and every turn has allowed me to remain creative in some way. I managed to be creative where creativity wasn't always appreciated, and each part of my journey has helped shape who I am. I believe life leads you to who and where you need to be.
I prefer to keep my work light and clean. I am a minimalist by nature and consistently look for ways to simplify my work and let it breathe. I strive for layers of interest and balance, looking for unique compositions that captivate the viewer. My intent is to make art that makes people stop, reflect and recall moments in their lives that bring them joy.
My joy is the studio, my family and those wonderful moments that take your breath away."
For more information or to contact this artist for a commission, please contact [email protected].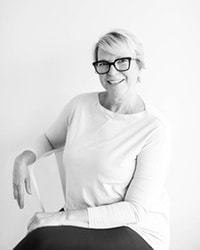 Horse Hair Series
Acrylic Monotype on found paper