Medium: Oil, Acrylic and Watercolour
Sabine Hahnel was born in 1967 in Communist East Germany and spent most of her childhood in a small town, going to school in a system where individuality and imagination were not considered traits to be explored and fostered. She grew up admiring the artistic talent of her grandfather and she spent many hours watching him paint. It was difficult to find decent materials to work with but his ingenuity always found a way for him to express himself through his art.
Sabine is like him, entirely self-taught and always strives to improve her technique. She dreamt of becoming a painter, creating art professionally. In the communist regime however, she couldn't freely choose which path she could take professionally and had to obey the requirements of the system. That is why she trained to be a Critical Care Nurse. She soon accepted this new challenge and fell in love with the profession of caring for other people. With this drastic change in direction, art was now becoming more and more a refuge and therapy to deal with the stress and emotional burden of the life of a Intensive Care Nurse. In 1998 she emigrated to Canada with her husband, son and pet dog where she works full time in an Edmonton hospital.
She loves being outdoors hiking, skiing, biking, kayaking and forever looking for the next inspiration, to catch a glimpse of this ''something'' that makes her heart skip a beat. For her, to paint is to tell what she feels, what strikes her. Nature is the protagonist of most of her paintings. She attempts to capture the fascinating beauty of this beautiful world using bright bold colors and textures combined with a contemporary and impressionistic approach.
For Sabine, the beauty of painting is the freedom to alter reality and make it the way she would like it to be. Roots of this desire go back to her formative years living in a restrictive system. She always feels there is something exciting about a blank canvas and bringing it to life. Her goal is to make the viewer feel at peace and relaxed, like entering a place where one can let go and just be.
Sabine participates in the Edmonton Art Walk annually, where she enjoys meeting art lovers and getting invaluable feedback on her work. Her art can be found in numerous collections within Canada, the United States, Germany and Switzerland. Her studio and home are on an acreage in Strathcona County. Together with her husband, she also raises bees and Bison in her spare time.
For more information or to contact this artist for a commission, please contact [email protected].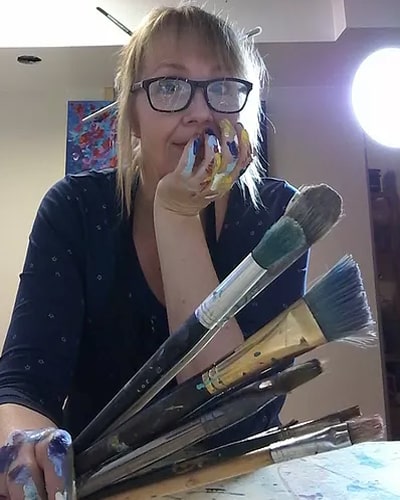 2020 Little Brick cafe
2019 Deep Freeze Byzantine Nina Haggerty Exhibition
2013 & 2019 Kaleido Art Festival Nina Haggerty Exhibition
2019 Café Blackbird Solo exhibition
2018 Naess Gallery Exhibition
2017 – 2018 Gallery 501 Group Exhibition
2018 GNH Solo Exhibition
2017 Bleeding Heart Gallery Exhibition  2017 Artwalk Edmonton
2016 Muttart Conservatory Solo exhibition (The Beauty of Nature)
2012 – 2016 Art walk Edmonton
2011 & 2015 Grey Nuns Hospital Annual art show
2014 Art from the unknown Edmonton
2013 Harcourt House Kinetics art exhibition
2012 featured on Global Edmonton Breakfast Television
2012 featured in NOA magazine