Medium: Acrylic & Oil Paint
"I was born in Liberia, West Africa. At 11 years old, my family and I had to run away from Liberia because of the civil war at the time. We lived in Ghana as refugees for six years before coming to Canada. I came to Canada with my family to have a new and better life. Canada, a place of opportunities, allowed me to explore the arts of West African drumming, dance and visual arts. While doing so, I'm able to celebrate and share my culture. I always loved drawing as a kid. I spend hours in the room drawing if I wasn't playing outside. When my family and I moved to Canada, I took the fine arts program at St. Joseph High School. I then went on to take a drawing course at Grant Macewan University. After that, I decided to travel to study West African drumming and dancing. While pursuing my musical career, I took about 8 to 9 years off fine arts.
While in quarantine, I decided to start painting again and rediscovered my love for fine arts. In this time, I was able to refine my techniques and creat from a different perspective. Now that I have gotten a bit older I see things differently and art seems to make a lot more sense to me."
Reckie studied African drumming and dance in Edmonton, Calgary, Ottawa and Mexico for the past 10 years. In 2016, he became the first Canadian certified Djembe (African drum) instructor taught by world renowned master drummer Mamady Keita. After the program, he and his wife, Ereni Perez, opened an African drumming and dance school called "Sangea Academy."
"Through Sangea Academy we are able to share and preserve West African culture while using music, dance and art to build cultural bridges. This helps us create experiences to express the things that have meaning to our communities."
For more information or to contact this artist for a commission, please contact [email protected].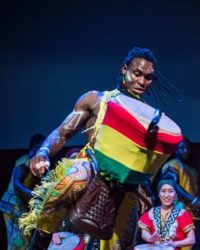 Certified Djembe (Drum) Instructor – Tam Tam Mandingue Djembe Academy – 2016
Award winner of excellent leadership in community initiative 2014 – 2019
Fill Fraser Award (Sangea Performance Group) 2015
Artist of the Year Award (Sangea Performance Group) 2014
Nominated for RISE Award 2011
Award winner of Emerging Artist 2009