über iron is an Edmonton Alberta based company functioning as a design house with production capabilities. Andy Young, founder and lead designer recognized some time ago the underutilization of metal as a decorative element in our lives. With a passion to create and a diverse skill set gained from backgrounds ranging from fine arts to hot rods he easily envisioned how metal could be employed to enhance any environment. Thus "über iron" was born. With a mission to be innovative and original he has gone on to create many unique metal infused projects for an array of applications.
For more information or to contact this artist for a commission, please contact [email protected].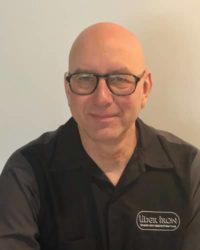 Gallery
Note: All photos are represented at a low resolution to protect copyright.
Moto Decor
Limited Edition Internal Combustion Replica Table & Chair Set Stainless Steel, Aluminum & Mild Steel; glass table top; vinyl seat top